The Alaska OWL Program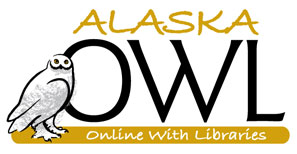 The Alaska OWL Program is funded by the State of Alaska to improve the computing capabilities of Alaska public libraries through bandwidth support for remote libraries, videoconferencing services for participating public libraries, and digital literacy training for library staff. The program was originally funded by a partnership of the United States Department of Commerce, the Bill and Melinda Gates Foundation, the Rasmuson Foundation and the Alaska State Library.
Our mission is to provide all Alaskans with the benefits and opportunities that come hand in hand with high-speed Internet. This includes areas such as e-government services, distance education opportunities and increased access to professional development.
How to Schedule an OWL Conference to Save Money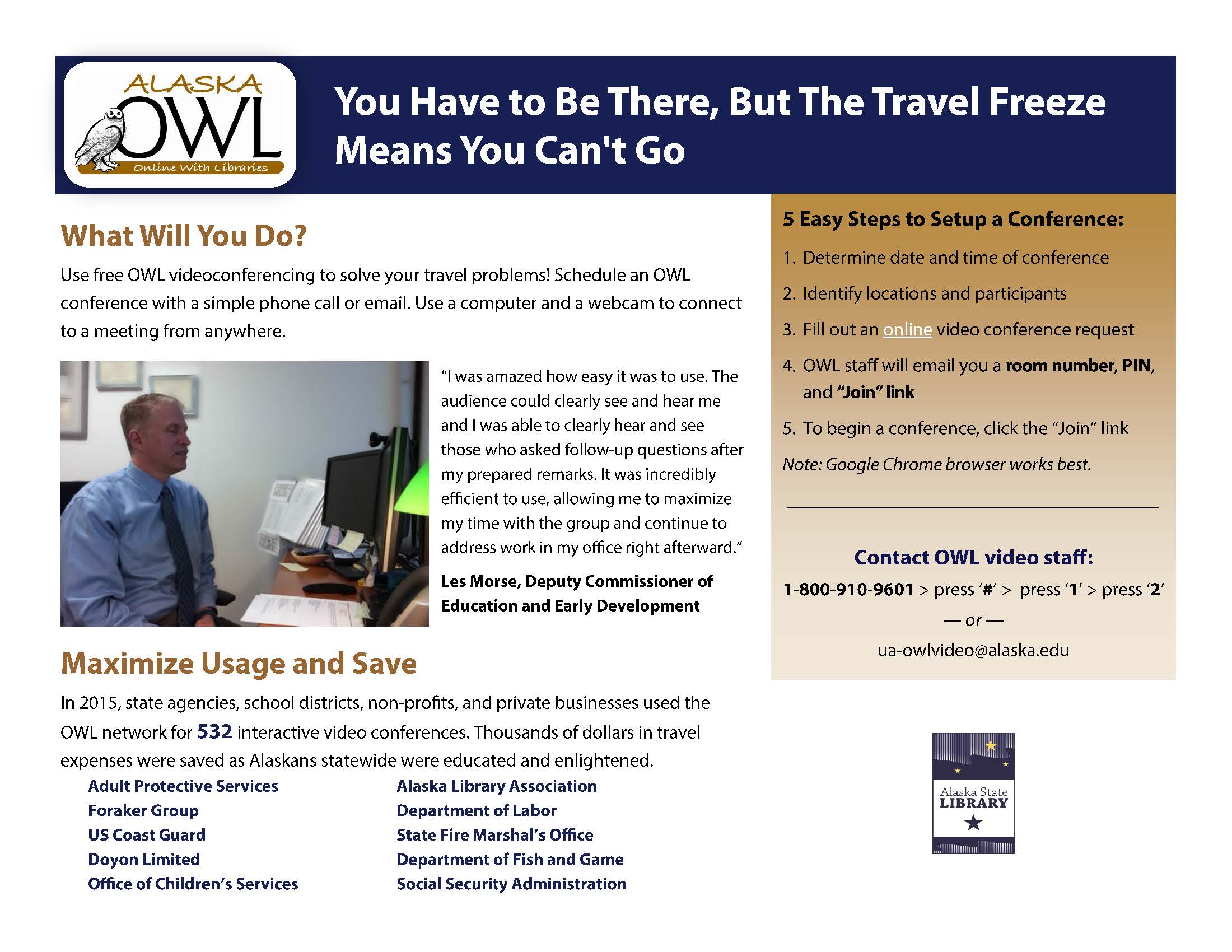 Digital Literacy: Alaska knOWLedge Center
The Digital Literacy: Alaska knOWLedge Center is a collection of tutorials, fact sheets and other tips to help you use computers, the Internet and other technology tools more effectively and efficiently.
OWL Connects Alaskans
Over the last four years Alaska OWL has provided broadband support, equipment, training, and Internet technology assistance to many public libraries across Alaska. See the impact it's had on thousands of Alaskans.
September 2012 OWL Summit
Broadband Taskforce (Prezi Presentation)
Bill Popp, Alaska Broadband Task Force
Sustainability of Rural Broadband Networks (PDF)
Rich Greenfield, Telak Consulting
The Library 'Triple Play' – Why It Matters for Alaska Communities (PDF 44kb)
Larra Clark, ALA Office for Information Technology Policy
National Broadband Policy and Community Anchor Institutions
John Windhausen, Director, Schools, Health and Libraries Broadband (SHLB) Coalition
National Broadband Policy and Universal Service Reforms
Bob Bocher, Fellow, ALA Office for Information Technology Policy
Alaska OWL Overview and Progress Report, September 2012
Sue Sherif and Shane Southwick, Alaska OWL Program
E-rate Funding
Valerie Oliver, State of Alaska E-rate Coordinator for Schools and Libraries
Presentation Slides From December 2010 Launch Meeting
Related Documents and Resources
Connections, Capacity and Collaboration - Exploring Potential Benefits of Research and Education Networks for Public Libraries (posted 3/4/2011)
Source: Alaska State Library — http://library.alaska.gov
Page last updated 05/25/2016

Division of Libraries, Archives & Museums
Department of Education & Early Development