The Alaska Online With Libraries (OWL) Program
OWL Technology Reimbursement Program
Temporary funding is available from the Alaska OWL Program to reimburse public libraries who want to upgrade their technology. Each library may spend up to $1,500, including shipping, on technology equipment. There are two conditions to receive reimbursement:
Equipment must be for use in the public areas of your library and not intended for staff.
Before making your purchase, you must receive approval from the OWL program manager.
Applications are due by Monday, April 30. Return application via email to Daniel Cornwall or fax at 907-465-2151 with "Attention Daniel" on the cover sheet. If your application meets our guidelines, we will send you written approval for your purchase. After receiving your equipment and/or software, send us your receipts for reimbursement (up to $1,500) from the Alaska Library Network.
Fill out our Word doc application
Please don't hesitate to ask questions! Email Daniel Cornwall, OWL program manager.
What do you want to do today?
For Libraries
For Agencies/Organizations
Contact Daniel to learn how my agency or nonprofit can use OWL to schedule meetings or presentations
For Everyone
Upcoming OWL Events
Alaska libraries wishing to join an OPEN video conference on this calendar should e-mail Video Conferencing Services at ua-owlvideo@alaska.edu.
About Online With Libraries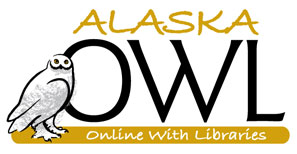 The Alaska Online With Libraries (OWL) Program is funded by the State of Alaska for the following purposes:
Provide rural Alaskans with high speed internet access that urban Alaskans have long been using for education, employment, and enjoyment.
Bring the world to Alaska by connecting people from all areas of the state with other Alaskans and Americans through videoconferencing.
Reducing costs for agencies and organizations by substituting video meetings and visits for travel.
Provide information technology training to Alaskans that will enhance their future education and employment prospects.