Learning for Productivity
Target Online Learning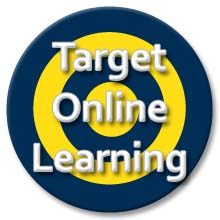 View Archived Recordings
Do you know where your organization is going to be in five years? Times are changing, but with preparation we can ease into our new situations with minimal stress. Plan for your organization's future with books! We're going to cover some of the best books available to you from ebrary on the topic of strategic planning. Presented Maeghan Kearney. Recorded on November 19, 2015.
The best organizations keep track of how they're perceived by their customers and respond to feedback. In this webinar, we'll look at some tools for monitoring your brand online, on social media, and in the news. Presented by Claire Imamura. Recorded on October 22, 2015.
Is there a way to recognize future trends quickly enough to stay relevant? To analyze current trends in order to best take advantage of them? Wouldn't you rather be prepared for change, than frantically respond to yesterday's news? Learn about tools and techniques for finding trends, and proactively prepare for the future by exploring more focused trends yourself. Presented by Freya Anderson. Recorded on September 24, 2015.
The Alaska State Library collects and archives all state publications, including annual reports, manuals, and more. Government publications librarian Maeghan Kearney and cataloging librarian Martha McTear will discuss required elements, readability and printability tips, and metadata guidelines to make your publication and its associated information more accessible to all Alaskans. Recorded on August 27, 2015. Blackboard Collaborate Recording (Recommended for State Employees)
If you're in charge of your organization's social media accounts, website, or publications, this webinar is for you! We'll look at sources and search strategies for free images that you can use in your work. Outreach librarian Claire Imamura makes flyers and signage, leads the library's Twitter account (@akstatelibrary), and is learning to navigate the post-Microsoft-clipart world. Recorded on July 23, 2015.
State agencies create copyrighted material every day. Sometimes you may need to maintain control, but sometimes you may just want to get your information out. We'll consider how to determine what you want to share and highlight some options of how to do so proactively. Learn about how copyright and Creative Commons work together, and how to determine which option might be best for your agency. We'll also touch briefly on handy sources for royalty free or public domain multimedia that you can use to jazz up your publication. Recorded on July 9, 2015.
Wonder what happened with to the bills we heard about during session, like Daylight Savings, Erin's Law, or the film tax credit repeal? You can find the status of all the bills through the Alaska Legislature website. Learn how at this webinar with government publications librarian Maeghan Kearney. Recorded on May 21, 2015.
You can get thousands of free e-books and audiobooks from ListenAlaska Plus! Learn how to set up your account and get started reading and listening on your device. This session will use Apple devices, but the process is similar on Android or other systems. Outreach librarian Claire Imamura is a new but enthusiastic e-book reader. Recorded on April 23, 2015.
Are you sometimes perplexed how you and your group could have met for an hour and not made it through a simple short agenda? Do you wonder how to lead people out of a treacherous conversation whirlpool without stifling creative thought? Chairing meetings can be challenging. In this webinar, we will explore techniques for leading more effective meetings. Taught by Katie Fearer. Recorded on March 19, 2015
Want to tell people from Ketchikan to Barrow about your agency's services? Need some input from Anaktuvuk Pass or Dillingham but don't have any travel funding? Use videoconferencing to connect to Alaskans! The Online With Libraries project has established a videoconferencing network that connects 97 Alaskan communities. In this class, we'll walk you through how to use the OWL network for your outreach needs. Taught by Claire Imamura. Recorded on February 12, 2015.
Looking for Alaska State Legislative materials? Prepare for the 2015 session by viewing this class. Learn where the key resources are located and how to get started with legislative research. Taught by Maeghan Kearney. Recorded on January 29, 2015.
Do you want to learn about new articles published in the Journal of Aging and Health? How about Basic and Applied Ecology, Animal Welfare, or even Backpacker? The Alaska State Library's Table of Contents (TOC) service includes over 200 diverse titles, but many state employees are interested in publications not covered by our TOC service. Fortunately, you can set up your own TOC alerts for most scholarly journals and many general interest magazines. Taught by public services librarian Katie Fearer. Recorded on December 11, 2014.
There's a lot of confusion about how copyright relates to State publications. Find out the rules related to non-federal, governmental publications, and some options that you may have for using and sharing content legally. Recorded on November 20, 2014.
Have you found the ebook you are looking for but remain mystified by the download process? Or perhaps you encountered an error messages like this when you try to download it, "E_LIC_ALREADY_FULFILLED_BY_ANOTHER_USER." Let the Alaska State Library help.

In this webinar, we'll cover the software, apps and accounts, you need in order to download ebooks from our collections, including ListenAlaska. We'll also review the download process step-by-step. Recorded on August 4, 2014.
It seems like we have more retirements every year. There are books that will help you plan for the transition, whether you're the retiree or a colleague is. We'll highlight some good ones, and even throw in some suggestions for living the good life in retirement. Recorded on June 23, 2014.
Have you just finished the last book in a series and want to find another series that's similar? Or want to find a book, but can't remember anything more than it was about knitting and solving crime? This webinar covers NoveList, a database of fiction titles, authors, series, and other reader-focused content that's accessible to all Alaskans. We'll include plenty of time for practice, so bring your book interests to class with you. Recorded on March 27, 2014.
Whether you need specific details for a report or just want to learn more about our great state and her people, there are some wonderful, free online resources on Alaska history. Whether you're a Cheechako new to Alaska, or are already a confirmed Sourdough, our state is large and diverse enough that there's always more to learn. Recorded on March 13, 2014.
Crystal Bourland, Health Insurance Navigator for Juneau, gives a general overview of the ACA & Health Insurance Marketplace and covers the types of financial assistance available, the individual mandate & exemptions to the mandate, qualified health plans in Alaska, application process, key dates for enrollment, & resources. She also gave an update on enrollment in Alaska. Recorded on January 17, 2014.
Looking for free, high-quality images to add to your publication or newsletter? This class will introduce participants to government and commercial sources of royalty free and/or public domain images.
Looking for some gravel? Want to know if you live near a contaminated site? No? Perhaps you'd like basic information about schools or an address for a business owner. No matter your Alaska-related information need, chances are good that a state agency has put that information in a database. In this webinar, we'll introduce you to some Alaska agency databases available, and demonstrate a few of them in depth.
To find the resources mentioned in this class, and more, see the Alaska State Agency Databases page from the Government Documents Roundtable of the American Library Association.
State employees have access to thousands of ebooks. Whether you need titles covering academic or technical subjects or just want a fun read, join us for this webinar. We'll introduce you to Alaska State Library's most comprehensive collections of ebooks and audiobooks: ebrary and ListenAlaska. We'll also briefly review other ebook sources.
Who needs a computer anyway? Learn about free smartphone and tablet apps for using the Digital Pipeline, as well as some of the best Alaska-related apps available. The instructors are both iPad and iPhone users, but we'll talk about Android options as well.
Do you have clients ready to embark on a new career? Do you dream of owning your own business? Learn how to locate start-up capital, write a successful business plan, obtain a business license and more.
Looking for Alaska State Legislative materials? Prepare for the 2013 session by attending this forty-five minute class. Learn where the key resources are located and how to get started with legislative research.
Find out about the fun and easy resources available to learn a foreign language, plus English as a second language. Mango Languagages is one popular option, but there are others as well. We'll also talk about free practice and tutor options, games and foreign news sites.
Never again pay $50 for 24 hour access to an article. Don't make do with unauthoritative resources because they're all you can find from a quick Google search. You need accurate, reliable, timely information on research, regulations, news and more, to do the best job possible for Alaskans. We can help. Find out how.
Learn how the statewide initiative OWL, Online with Libraries, is providing Alaskans with greater access to e-commerce, distance education and professional development opportunities..
In this class, we'll cover grant writing and general writing resources, tips on things to avoid, and outcome based evaluations. There will be plenty of examples of what makes a good grant vs. a poorly written grant.
Do you have clients ready to embark on a new career? Do you dream of owning your own business? Learn how to locate start-up capital, write a successful business plan, obtain a business license and more.

Are you looking for laws or court decisions, but frustrated because you just can't decipher legal citations? This introductory class is for anyone who wants to learn how legal citations work.
The Alaska State Library offers electronic books, images, articles, encyclopedias, automobile manuals, and more. To make it easier to find our eResources, we've redesigned our web pages. In this session, you'll learn how to identify and access the eResource you need through the library's web pages, whether you're looking for an eBook, notable quote, peer reviewed or general interest article, or other type of information.
Are you curious about the State Libraries, Archives, and Museums (SLAM)? Do you know the state libraries are different than their city counterparts? Join us and get to know SLAM a little better.
The Testing & Education Reference Center is a one-stop online digital resource designed to help users meet their educational or career goals. By the end of the webinar participants will be able to research colleges and universities, identify college funding and locate practice exams. Participants will also be introduced to TERC's Resume Builder & Virtual Career Library.
Do you deal with confidential information at work? Do you sometimes use your home computer to catch up on a task? Do you use your personal smart phone for work? These are growing issues in our modern, mobile, and often wireless society. Join us to learn some of the tricky areas in privacy and confidentiality in the digital age, and pick up tips about how to minimize risk. Watch a recording of the video conference presentation.
Designed to help clinicians access health resources available from PubMed. Topics covered include instruction on building a search in PubMed, how Medical Subject Headings are structured and used in PubMed, and how to manage search results.
Do you have an ongoing need for newspaper, magazine, or journal articles on a particular topic? In this class you will learn how to set an EBSCOhost research database search that will deliver weekly results to your email. This class is most appropriate for people familiar with basic database searching.
Learn how to get quick access to community, economic and demographic information produced by state agencies within Alaska. Also learn about the sheer variety of information that is publicity available from State of Alaska agencies.
We know you are using it; now learn how to use it right. In this forty-five minute class, we'll highlight search options from Google you might not have know were available and show you how to find better information quicker. Come learn how to Google your questions more efficiently. There will be time for questions and practice.
ebrary provides access to the full text of over 50,000 books covering a wide range of academic and technical subjects including law, computers, education, health, political science, and more. Now users can download these full-text books and save them to their desktop or tablet device using Adobe Digital Editions.
Access our instructional guide on downloading ebrary books.
OWL VideoConference Learning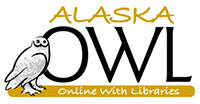 Stay tuned for upcoming OWL Learning videoconferences!
Source: Alaska State Library — http://library.alaska.gov
Page last updated 11/20/2015

Division of Libraries, Archives & Museums
Department of Education & Early Development