The Alaska Online With Libraries (OWL) Program
8/16/2019 - Alaska Governor Michael J. Dunleavy announced that the Online With Libraries (OWL) program would be allowed to restart with full funding for FY 2020. We will be announcing broadband assistance and the revival of the videoconference network in the coming days.
About Online With Libraries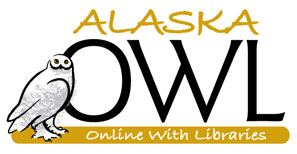 The Alaska Online With Libraries (OWL) Program was funded by the State of Alaska from July 2013 through July 2019 for the following purposes:
Provide rural Alaskans with high speed internet access that urban Alaskans have long been using for education, employment, and enjoyment.
Bring the world to Alaska by connecting people from all areas of the state with other Alaskans and Americans through videoconferencing.
Reducing costs for agencies and organizations by substituting video meetings and visits for travel.
Provide information technology training to Alaskans that will enhance their future education and employment prospects.
View of a list of libraries that participated in OWL Videoconferencing from 2013-2019 [PDF].