The Alaska Online With Libraries (OWL) Program
What do you want to do today?
For Libraries
For Agencies/Organizations
Contact Daniel to learn how my agency or nonprofit can use OWL to schedule meetings or presentations
For Everyone
Upcoming OWL Events
Alaska libraries wishing to join an OPEN video conference on this calendar should e-mail Video Conferencing Services at ua-owlvideo@alaska.edu.
About Online With Libraries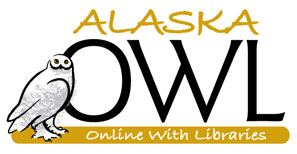 The Alaska Online With Libraries (OWL) Program is funded by the State of Alaska for the following purposes:
Provide rural Alaskans with high speed internet access that urban Alaskans have long been using for education, employment, and enjoyment.
Bring the world to Alaska by connecting people from all areas of the state with other Alaskans and Americans through videoconferencing.
Reducing costs for agencies and organizations by substituting video meetings and visits for travel.
Provide information technology training to Alaskans that will enhance their future education and employment prospects.