Shipwrecks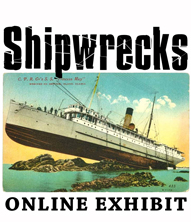 "For God's sake come we are sinking" was the final message sent from the steamship Princess Sophia. On October 24, 1918, in a blinding snowstorm, the Sophia struck Vanderbilt Reef on her way from Skagway to Juneau. Extreme weather conditions and high seas thwarted rescue efforts, and the ship went down with 343 passengers. There were no survivors other than a dog.
In terms of lives lost, the Princess Sophia was the worst maritime disaster in Alaska history; however, between 1878 and 1915, alone, 87 ships wrecked along Alaska's rugged coast. In many instances, there were photographers on hand to document the disasters. When the Princess May hit a reef off Sentinel Island on August 5, 1910, she stayed on the rocks for nearly a month. All passengers were safely evacuated, and there was ample time for W. H. Case to take memorable photographs.
The legacies of some shipwrecks live on to this day. Several attempts have been made to recover the Klondike gold that went down with the Islander south of Juneau on August 14, 1901. In 1934, the main hull was raised from the seabed and beached on Admiralty Island, but salvagers were disappointed to find only $75, 000 worth of gold instead of the anticipated millions. Hope for riches persist, however, because the bow of the ship is still on the ocean floor and salvage efforts continue.
Decades later, shipwrecks can also leave behind environmental hazards. In 2010, the United States Coast Guard and the Alaska Department of Environmental Conservation successfully removed bunker oil that had been leaking from the Princess Kathleen, which ran aground and sunk in foul weather near Lena Point, Juneau, on September 7, 1952. Ironically, the shipwreck lies just off the rocky point on which the new NOAA Ted Stevens Marine Research Facility has been built.
Images From the Historical Collections
Last traces of the Princess Sophia, 1918


Pacific Coast Steamship Company ship wrecked on Point Augusta, 1917


Princess May wrecked on Sentinel Island, 1910


Skookum wreck on the beaches of Nome


Tanker Exxon Valdez towed to Naked Island, 1989


Last of the Princess Kathleen sinking under the waves, 1952


US Coast Guard Cutter, Storis, races to save the crew of Alaskan Monarch, 1990


Sinking of the cruise ship Prinsendam, 1980


The vessels Greyhound and Mary C. crushed by ice off the coast of Nome, 1907


Wreck of the steamship Spokane in Seymour Narrows, 1911


The Toledo stranded on Turnigan Arm, 1906


Wreck of the Mariechen at False Bay


The steamship Zapora on a rocky beach


Steamship Amur after going on the rocks in Wrangell Narrows, 1911


Wreck of the Olga at Nome, 1909


WWII landing craft wrecked at South Head, Kiska, 1943


Wreck of the Admiral Evons atHawk Inlet, 1918


Wreck of S.S. Yukon on Sanak Island, 1913


Painting by C. Eisele of wreck of the steamship Ancon at the village of Loring


Survivors of the S.S. Karluk of the Canadian Arctic Expedition, ca. 1914


Salvage of The Islander between the Griffson and Forest Pride, Admiralty Island, 1934


More Information on Alaskan Shipwrecks
Juneau Empire stories on the Princess Kathleen salvage